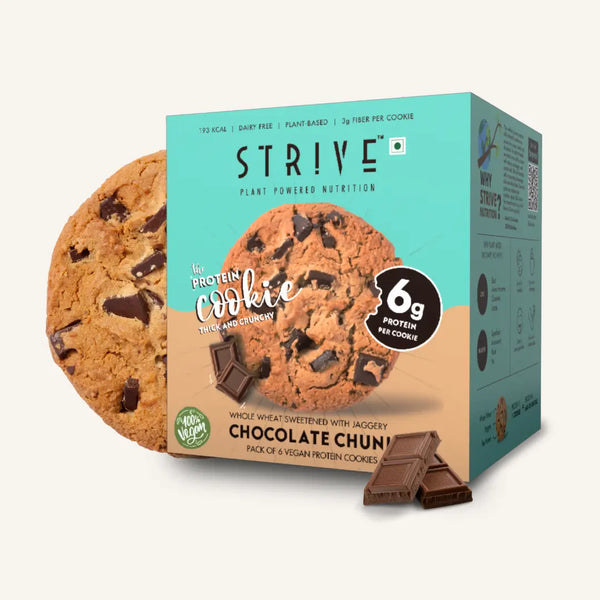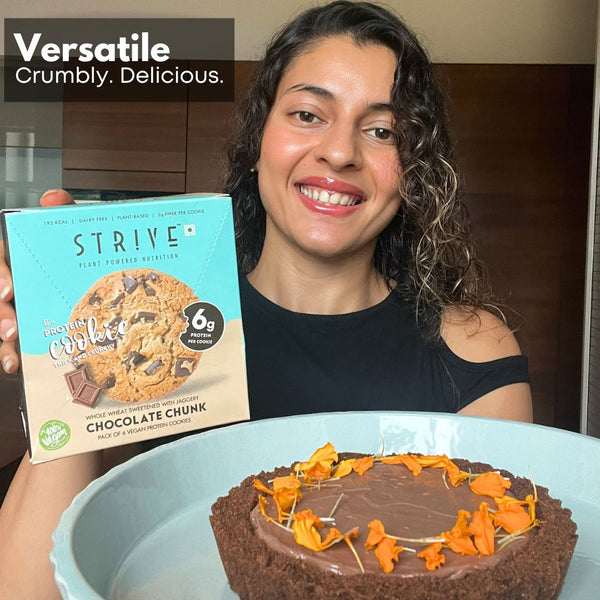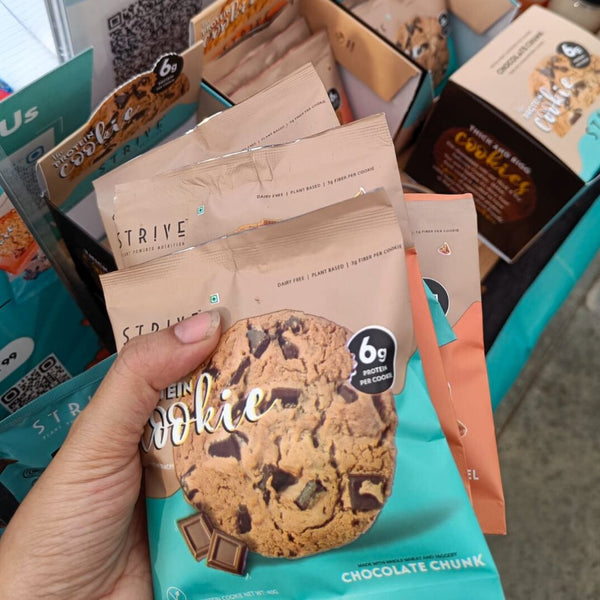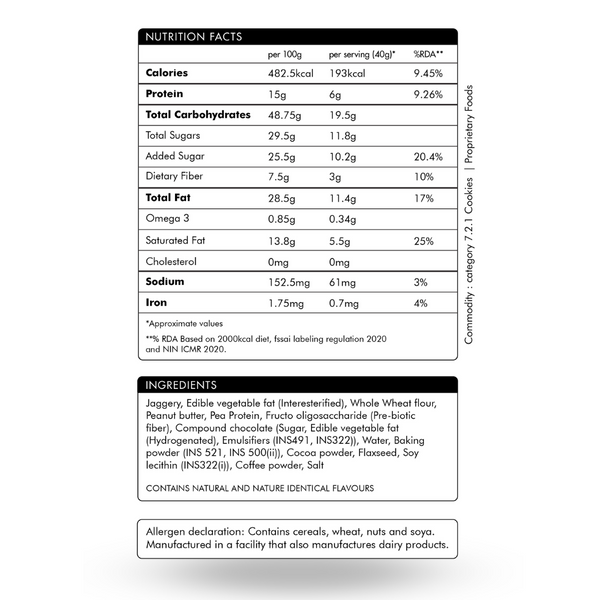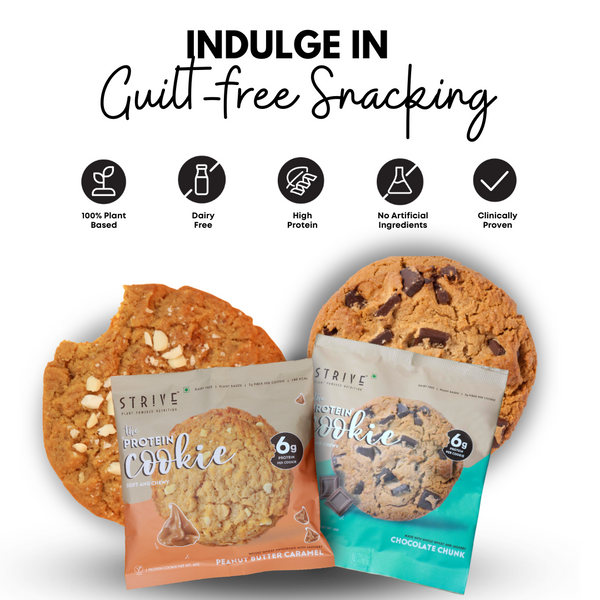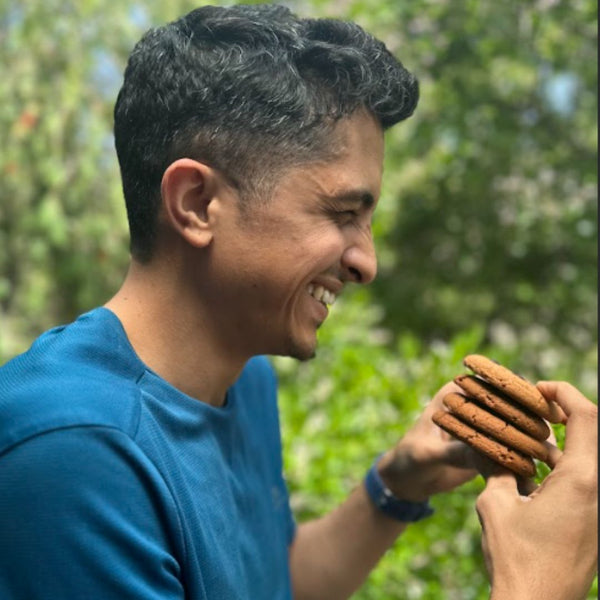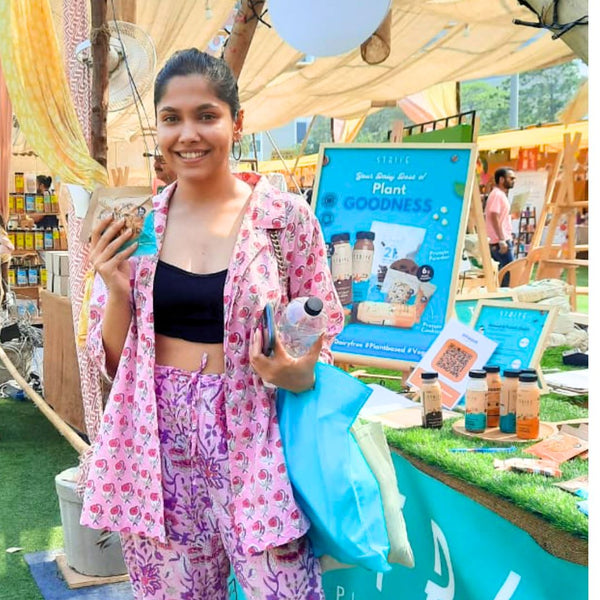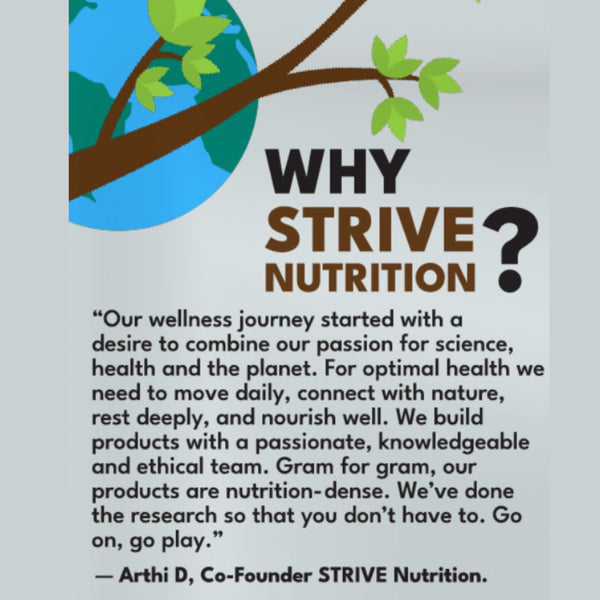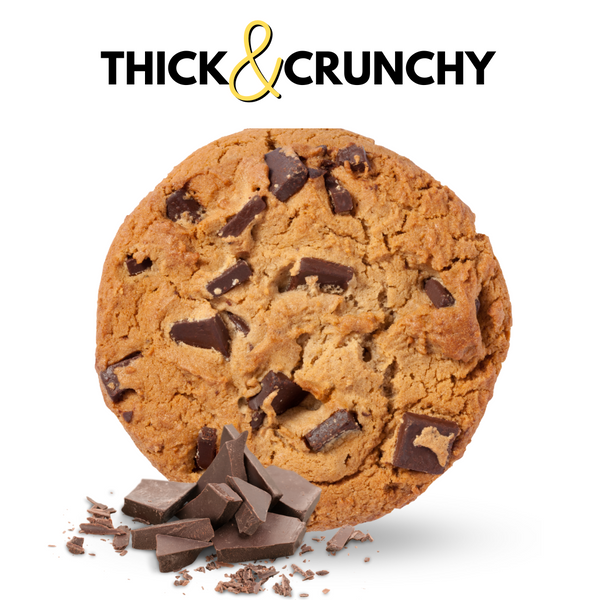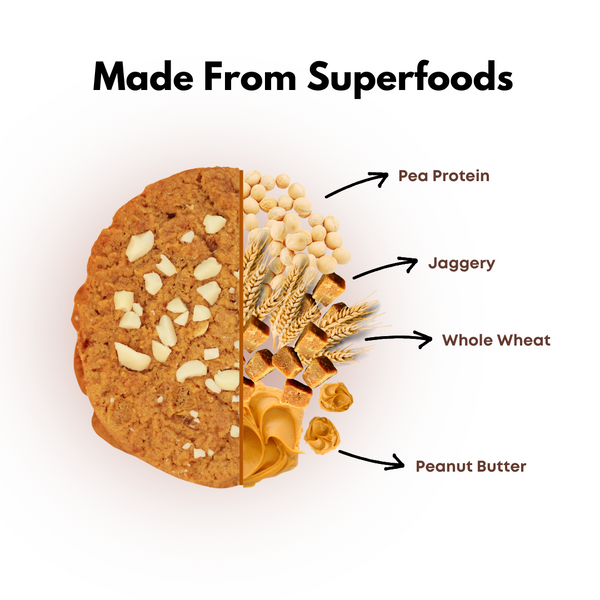 6g BIG Protein Cookie | Vegan | Tasty
STRIVE cookies are delicious, thick, filling as a complete protein-loaded snack, and 100% guilt-free. Each cookie has 6g+ of vegetarian plant protein and is sweetened with jaggery. 100% maida-free. A BIG protein cookie that actually tastes good. Baked in small batches to perfection. Can be eaten as a biscuit with Chai, coffee and shared with friends & family.
Great for Gifting Season 🎁 
Stack these in your home pantry, stash them in your office bag and in your lunch box for the 4PM hunger pang. Satisfy sugar cravings without the guilt. Each cookie has the protein of 1/3rd cup of dhal. Go on, don't let the Daily hustle stop your Daily Protein.
Who is it for?
Satisfying Sweet & Hunger Cravings

 

Seeking Guilt-free Protein Snack!
Looking to add Daily Protein
Building Healthy Habits
Looking for dairy-free, vegan snacks
Convenient for a busy healthy lifestyle
Ditching whey
Great for Mid-day snack, Afternoon pick-me-up, Pair up with your breakfast coffee or breakfast tea. Protein-post-workout, Evening  Protein dessert.  
Each STRIVE protein cookie has 6g of quality European pea protein, is made with natural; whole wheat flour and has real peanut butter loaded with protein.  
No maida,

 

No butter,

 

No dairy milk,

 

No colour,

 

No preservatives,

 

No artificial sweeteners,

 

No whey.
Available Flavour:
Peanut butter caramel & Chocolate Chunk. 
Each cookie is individually wrapped and then comes in a single box of 6. Great for Gifting as a Box.
Who Should take Protein?
The Reality is that Protein is Needed by Everyone
. 
STRIVE is made from plant based protein sources, mainly premium yellow peas of and have a really low carbon foot-print. Our shakes don't have any added sugar or preservatives hence they are good for your digestive system and gut health.
Protein is needed by Everyone. There is a misconception that protein is only for those that workout:

Protein in the form of whole foods protein (dhal, legumes, peas, protein-rich vegetables, spirulina, other superfoods), protein powders or shakes are essential
for daily efficient cellular, muscular, hormonal, nerve and brain function. Protein is necessary for the health of our eyes, our skin and nails and beauty as well. When a diet is not rich in clean vegetarian protein, it is a good idea to supplement the diet with top up protein. Please note: we do not recommend complete substitution of whole foods such as vegetables, and legumes. On average, a person needs 0.9g - 1.2g protein per kilo of body weight. The more strenuous one's physical activity or if one is recovering from an injury, a surgery then one may need more than the average 1g protein per kilo of body weight.

Women especially are prone to Iron deficiency and tend to be protein-deficient. Peas are naturally rich in iron. Dairy-free vegan proteins for women are essential for avoiding hormonal disruption, avoiding acne breakouts, avoiding fatigue, avoiding hair loss. Men and women equally require quality protein and fats in their diet for healthy skin and hair. Plant proteins will support a healthy hormonal balance, satiate the body and help with weight management. Yes, protein shakes for weight loss and weight management are considered useful in any healthy diet plan.
Breakfast: Why a Protein Loaded Breakfast (First meal) is Important
Protein shakes can be used as breakfast protein, as breakfast shakes, to break intermittent fasting, or added to any breakfast meal to make the meal low-carb and high-protein. We have shown clients are able to reduce calories at breakfast and instead increase nutrition density and protein density respectively. We have first-hand witnessed that these simple but easy changes to meals has been proven to aid weight loss, weight management and some lifestyle conditions.

Dairy-free Vegetarian Protein
Our plant based shakes are essentially dairy-free, they are a pea milk which is a lactose-free milk, completely free of animal hormones. It is loaded with 21% Daily RDA recommended protein needs per bottle which is a shockingly ~120 kcal. This is 65% lower in calories compared to the average protein and breakfast bar which are usually very high in nut fats and calories.
Our shakes are naturally rich in iron, have 100% high vegetable protein which is 100% vegan, Jain-friendly, vegetarian and free of any animal by products including honey. Pea protein is known to the best vegetarian protein and vegan protein source trusted by athletes, plant-based wellness enthusiasts, vegans and non-vegans. Our proteins are soy-free and gluten-free as well and offer 98% digestible properties that do not cause bloating on the stomach. We do not use unnecessary enzymes (as it is not required with our digestibility) and our ingredient-list is simple, and short. It is a healthy choice for protein powders, healthy protein choice for men and for women. We are the only brand in the market offer dairy-free liquid protein shakes for kids as it is high in calcium, high in iron, sweetened naturally, dairy-free, lactose-free and convenient to travel with. Stevia and stevia leaf extract is a popular safe and healthy sweetener recommended by nutritionists and doctors
Meal Replacements: How to manual.
STRIVE products can safely be used as meal replacement shakes with the addition of plant milks, and a source of fibre such as fresh fruits (eg apples, pomegranate), vegetables such as spinach. You can use any milk such as oat milk, almond milk, rice milk to thicken the shakes and turn them into breakfast smoothies or into a protein-snack. Our products are guilt-free, rich in Omega-3s, real almonds, real superfoods and made with a Premium High grade European protein that is very rarely utilized in India. We suggest recipes that let you add superfoods, super fats, and fibres to each of our products such that they can nutritionally replace a meal. 
For quick protein top ups or protein snacks:
Add our liquid protein shakes as a creamer or as a milk to your coffee, cereal, smoothie or to pancakes/sweet dosa batters to make a protein dosa batter. Add a tablespoon or 2 spoons of the 21g Protein Powder to your Daily coffee or hot beverage to make it creamy and boost with at least 10g of protein.
Anyone looking to switch to a high protein vegan diet, high protein vegetarian diet or any high protein diet, even a flexitarian, egg-based or meat diet can comfortably use our proteins. Many clients switch to STRIVE while looking to reduce or remove whey protein, dairy-protein, egg-proteins and subsequently reduce bloating, indigestion, acne breakouts, reduce uric acid levels, and/or because their nutritionists/wellness coaches and Doctors suggested they increase vegetarian proteins. They also make the switch and stay with us since STRIVE is founded on scientific-principles and designed by a Biotech and ethical team.
Our products are allergen-friendly, processed in an FSSAI approved standardized factory that manufactures exported products. STRIVE is a trusted 100% plant powered and plant nutrition brand that has never used whey protein or animal milk derivative ingredients.
Each time you choose more legumes, more pulses, veggies as your sources of protein, you are supporting the planet's health by opting for a sustainable protein.

This is one of the most impactful ways of supporting the planet.
Ingredients - STRIVE Daily Nutrition Shake
VANILLA ALMOND SHAKE
Water, Apple Juice Concentrate, European Pea Protein*, Fructo oligosaccharide (pre-biotic fiber), Whole Californian Almonds (1%), Tricalcium Phosphate (Calcium Fortification, INS 341(iii)), Flaxseed Oil (Omega-3s), Salt, Xanthan Gum** (INS 415), Stevia Leaf Extract (Natural Sweetener, INS 960), Sunflower Lecithin** (INS 322(i)).

Contains Natural Flavours (Rosemary Extract) and Nature Identical Flavours.
CHOCOLATE ALMOND SHAKE
Water, Apple Juice Concentrate, European Pea Protein*, Cocoa solids, Fructo oligosaccharide (pre-biotic fiber), Whole Californian Almonds (1%), Tricalcium Phosphate (Calcium Fortification, INS 341(iii)), Flaxseed Oil (Omega-3s), Salt, Xanthan Gum** (INS 415), Stevia Leaf Extract (Natural Sweetener, INS 960), Sunflower Lecithin** (INS 322(i)).

Contains Natural Flavours (Rosemary Extract) and Nature Identical Flavours.
COFFEE ALMOND SHAKE
Water, Apple Juice Concentrate, European Pea Protein*, Cocoa solids, Coffee, Fructo oligosaccharide (pre-biotic fiber), Whole Californian Almonds (1%), Tricalcium Phosphate (Calcium Fortification, INS 341(iii)), Flaxseed Oil (Omega-3s), Salt, Xanthan Gum** (INS 415), Stevia Leaf Extract (Natural Sweetener, INS 960), Sunflower Lecithin** (INS 322(i)).

Contains Natural Flavours (Rosemary Extract) and Nature Identical Flavours.

*European Pea protein - Certified 98% digestibility, WADA certified protein
**Xanthan Gum and Sunflower Lecithin are safe food ingredients found in most vegan milk substitute products, globally, to bind all the ingredients together.
Ingredients - STRIVE Products
European Pea Protein
We use a 100% plant-derived and natural European Pea Protein, grown, purified all the way from Europe. It is certified 98% digestible and is easy on the gut and stomach.
It's a high Quality WADA certified protein that is a great Alternative and anti-inflammatory choice to whey' protein.
Brown Rice Protein
We use a clean natural Brown rice protein extract that helps round the Amino Acid profile of our proprietary protein blends. It has already been lab tested for heavy metals. 
Brown Rice Protein is also known for it's great malty taste!
Apple Juice Concentrate
Our Apple juice has a GI certification of < 41 units. It does not cause blood sugar spikes and it is safe on Type 2 Diabetics and for anyone watching their sugar levels. 
Fructo oligosaccharide (pre-biotic fiber)
It's derived from plants that you eat every day, like bananas, onions and chicory root! These are made up of plant sugars, and act as food for the good bacteria in your intestine, helping them to grow. They help control cholesterol and facilitate weight loss. 
Whole Californian Almonds
This superfood is a nutrition powerhouse - rich in fiber, protein, healthy fats, vitamin E, antioxidants. The almond is going to be around for a long time: from bodybuilders eating handfuls of Almonds to grandma's kitchen, it is also a time-tested traditional superfood, used in many global wellness pantries.
Stevia Leaf Extract - Meethi tulsi leaf extract (Natural Sweetener)
Stevia leaf extract also known as Meethi tulsi leaf is a 100% natural sweetener derived from plants. It is one of the few safe and 100% approved natural sugar free substitutes approved for use in foods & organic supplements. We use a safe water based extraction to bring you the  best of nature in its most natural form. Great for Low Carb, Pre-Diabetics & Calorie Watchers, Women, Pregnant Women & Kids.
Peanuts with Skin
Indian peanuts with anti-oxidant peanut skins are a whole-food superfood loaded in protein, fibre, and a small dose of resveratrol found in their skins. This is another time-tested superfood.
Storage and Payment Policy
Shipping Timelines
Due to the current circumstances, orders are taking slightly longer than usual to reach customers. We are in touch with every customer by phone and WhatsApp so do please look out for a message from our team to ensure a smooth delivery!
90% of customers receive their shakes without issues, but due to the current circumstances, 10% orders are taking a little longer than usual. We are not able to control the occasional delay beyond this. We do use reliable partners such as FedEx.  
120 PACK:  30 SHAKES X 4 DELIVERIES
60 PACK:  30 SHAKES X 2 DELIVERIES
30 PACK: 30 SHAKES X 1 DELIVERY 
6 PACK: 6 SHAKES X 1 DELIVERY
We will ensure smooth tracking from our side till you receive your package.
Shelf-Life and Easy Storage!
Our products have an updated 6-month expiry window now and at the time of delivery, we promise that you will have a minimum 60 days shelf life. This is our standard customer policy. These shakes can be kept outside in a dry area away from direct sunlight and will remain safe until the 'Best Before Date' on the shakes. Most customers keep at least 6 in the fridge for chilling/immediate consumption, store the rest in their kitchen with their breakfast materials.
A NOTE ON CARBON FOOTPRINT
Each delivery of a STRIVE pack places a delivery boy or a van on the street in the city or across the state and there is an equal carbon footprint. Now more than ever, we request you to pre-plan when possible and order a little more than required and keep them in stock during this uncertain time. The lower the number of  deliveries there is a lower carbon emission footprint. Recycle these 100% recycle-friendly plastic bottles (and cartons - 100% recycled) with your local plastic collector in your community.
Thanks for your understanding.
TEAM STRIVE
------
SHIPPING & PAYMENT POLICY
Thank you for visiting and shopping at "www.strive.store" owned by PlantByte Foods and Nutrition Private Limited hereafter referred to as 'PlantByte'.. Following are the terms and conditions that constitute our Shipping & Payment Policy:
How does the delivery process work?
Once our system processes your order, your products are inspected thoroughly to ensure they are in perfect condition.

After they pass through the final round of quality checks, they are packed and handed over to our trusted delivery partner.

Our delivery partners then bring the package to you at the earliest possibility. In case, they are unable to reach your provided address or at a suitable time, they will contact you to resolve the issue.
How are items packaged?
We package our products in eco-friendly cardboard boxes which are firmly sealed.
What is the range of locations to which STRIVE ships their products?
Plantbyte ships throughout India to multiple pin codes! 
My order has been shipped. Now how can I track it?
Once your order has been dispatched, you will receive an email with details of your order confirmation.  You will receive an SMS with a tracking number and the courier company that is processing your order.

You can track the status of your package 24 hours after your order is dispatched from our warehouse.
      Our trusted courier partner includes FedEx, Delhivery, Swiggy for local same day Subscription deliveries amongst a few other courier partners.

   

Plantbyte is not liable for any delay in delivery by the courier company / postal authorities and only guarantees to hand over the consignment to the courier company or postal authorities within 5 working days from the date of the order and payment. 

      Delivery of all orders will be to the registered address of the buyer as per the credit/debit card only at all times (unless specified at the time of order). 
What is the estimated delivery time?
We usually dispatch most orders within 2-3 business days (excluding Sundays and public holidays)
We manufacture a fresh batch of products every month so that we can live up to our promise of providing fresh, non-expired products.

While we are trying our best to avoid this situation, these products might delay your order. 

If you are ordering our products from a Mega Sale event, dispatches may be a bit delayed due to increased volumes. We will target to dispatch all orders within 3 days of the order date.
     

Limited Liability:

In case the product is unavailable or out of stock; or the delivery address is outside standard deliverable areas or in case of unforeseen or contingent circumstances beyond our control where your order cannot be processed, we will offer you a full refund for your purchase.
Will my order be shipped in multiple shipments? What does this mean?
This applies only to our SX members who order large packs of 60/120 shakes, they receive our products in multiple shipments as and when they run out.
Are there any shipping charges applicable on my order?
Currently there are "NO" Shipping charges within India but we do charge for shipping many parts of the year. These charges are displayed to the Customer on the website and at checkout. 
Does Plantbyte ship outside India?
At present Plantbyte ships only to India. However, we are working on starting international delivery to many other countries, so stay tuned!